by Mindy Linkous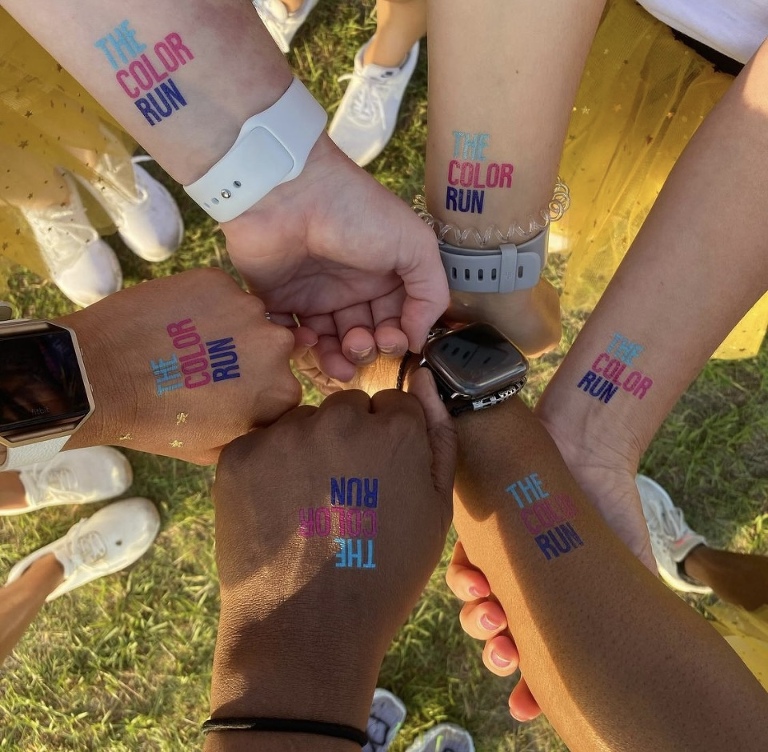 Nothing stands out brighter than a person fully alive.  A life bursting with passion and purpose beams inspiration.  When we reflect the glory of God we project a bright colorful burst of inspiration.  This burst of color can inspire people on their journey.  In a race if you get tired there is nothing better than to pass the water station or the corner where friends and supporters cheer you on.  It gets tough in a race pushing through the exhaustion and bearing the elements of weather.  I love Paul's analogy he sent to the Corinthians over 2,000 years ago.   Grecian races were familiar to those around Rome at the time so it makes a great reference.  
Do you not know that in a race all the runners run, but only one receives the prize? So run that you may obtain it. 25Every athlete exercises self-control in all things. They do it to receive a perishable wreath, but we an imperishable. 26So I do not run aimlessly; I do not box as one beating the air. 27But I discipline my body and keep it under control, lest after preaching to others I myself should be disqualified.  -1. Cor 9:24-27
In a race all run but only one receives the prize whereas spiritually the success of one is no hinderance to that of others therefore we are not in competition.  All can achieve the reward sought after. 
Paul lives in freedom and confidence.  A boldness to run in life as if only one wins.  This is serious.  The reward, the integrity of the race, and the race owner all have meaning and respect to the runner.  The confidence is to have the hope to win.  Our future glory is not won by effort, but is bestowed as a free gift. It is given from the hands which have procured it, and, as I may say, twined it for us. His brows were pierced with the crown of thorns, now ours can wear the garland of victory. Jesus provides the sole means, by His work, by which any man can enter into that inheritance; and Jesus, as the righteous Judge who bestows the rewards, which are the results, of our life here, gives the crown. It remains for ever the gift of His love.
RUN LIKE SO
As if the one who put your journey together was supreme in your eyes.  
As if the prize of a crown of righteousness is worth fighting for.  
As if you believed it was possible for you to win- even if only one could win.  
The lesson is to run like so, like the one winning, or in such as way as a victor would.  
I recently ran a 5k Color Run in Orlando and there was such vibrant themes to the race and color everywhere.  Some people were out to have a fun time with friends while others were there to run to win.  The race had color stations throughout where you were blasted with powdered paint.  A fun burst to keep you inspired.  At the sign up you could add all sorts of  accessories like gold star socks and press on tattoos.  I got a unicorn headband and a gold tutu. 
I get inspired during a run and think of God's touch on everything and seek to capture what God is speaking as I run.  I like to keep a steady pace, keep the heart rate mild.  So I'm pushing through concentrating to keep focus and around the loop come the front runners.  These people were serious.  They weren't wearing tutus or headbands with unicorns sticking up.  We are talking slick runners gear shaved legs pro sneakers and as they passed by the passion and vigor was intense.  They were running at such a consistent fast pace I could hear them panting as they flew by a lap ahead.  Draw inspiration for your life run.  Train to run.  Believe you can win.  
Break It Down 
Explore methods of a victor 
Discipline
Focus
Concentrated Effort
Discipline 
v25Everyone who competes in the games trains with strict discipline.
v27I discipline my body like an athlete, training it to do what it should. NLT
Discipline to Surrender.  You must 'lay aside' 'every weight.'  If we are to run fast we must run light.  It is a struggle to put off the "I got it" attitude and have the counsel of God guide you.  Jesus says His yoke is easy and His burden is light but other people make it about us.  Staying focused that He is the way to truth salvation and good.
Youth who hopes the Olympic prize to gain, 
All arts must try, and every toil sustain; 
The extremes of heat and cold must often prove, 
And shun the weakening joys of wine and love. 
So Horace tells us.
— FRANCIS, Article Poetry, line 412A.
Make every effort!  
2 Peter 1:5 For this very reason, make every effort to add to your faith goodness; and to goodness, knowledge; 6 and to knowledge, self-control; and to self-control, perseverance; and to perseverance, godliness; 7 and to godliness, mutual affection; and to mutual affection, love. Discipline my body – which is a strict statement because this is war
Focus 
v 25They do it for a crown that is perishable, but we do it for a crown that is imperishable.
Look at prizes comparatively:
The crowns for which the Greeks contended in their games were for the most part made of the leaves of trees which soon withered.   Crowns made of leaves of wild olive, laurel, pines, or parsley depending on the games. But the prize of the righteousness of Christ is what we are offered.  This brings focus from the most scattered minds.  This brings concentrated efforts from the frozen from the faint and from the fallen.  To catch a glimpse of what Christ offers us at no cost will inspire the one who tripped up and fell to get back up and run again.  
The runner, according to Paul's vivid picture in another of his letters, forgets the things that are behind, and stretches out towards the things that are before.  When you see it you will run. When you see it you will invest your all.
Now we see a tribe of resolute, conscious people tossing off the glittering accessories and coming forth with concentration to that which is clearly and always was before us. Do you know what you are aiming at? That is the first question. Put it into half a dozen words, or less.  
Concentrated Effort 
v26Therefore I do not run aimlessly; I do not fight like I am beating the air. 
The larger portion of most lives goes to drive the wheel, and there is very little left, in the case of many of us, in order to help us towards God, and bring us closer to Christ.  The best race is running to Jesus.  Run in life as if you were in the lead running toward a goal that is worth it.  Throwing all hindrances to the wayside without so much as looking back.  Armored with sleek gear for speed and truth.  No clanking heavy armor that doesn't fit.  Strong prepared to break through exhaustion.  Leaping over obstacles like it was nothing.  Brave and vibrant with energy and not distracted by applause.  This is not happen-stance.  These are not left overs.  This is intentional these efforts are strategic.