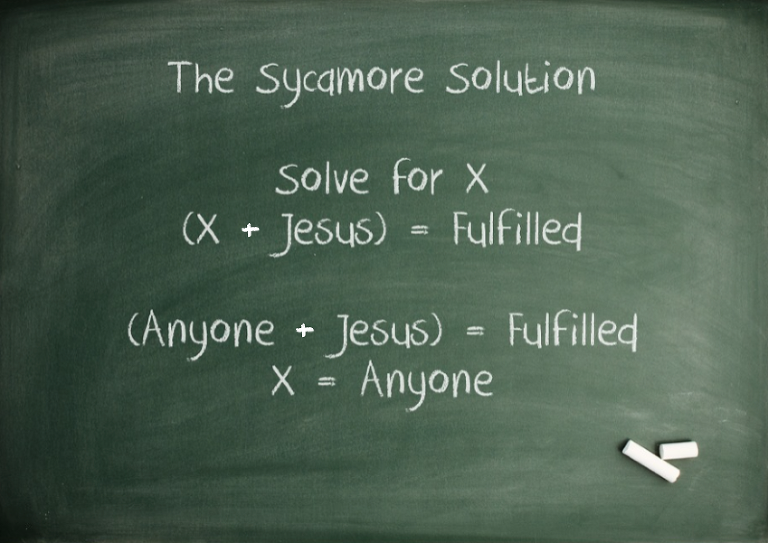 The Sycamore Solution
by Mindy Linkous
Jesus entered Jericho and was passing through. A man was there by the name of Zacchaeus; he was a chief tax collector and was wealthy. He wanted to see who Jesus was, but because he was short he could not see over the crowd. So he ran ahead and climbed a sycamore-fig tree to see him, since Jesus was coming that way.
When Jesus reached the spot, he looked up and said to him, "Zacchaeus, come down immediately. I must stay at your house today." So he came down at once and welcomed him gladly.
All the people saw this and began to mutter, "He has gone to be the guest of a sinner."
But Zacchaeus stood up and said to the Lord, "Look, Lord! Here and now I give half of my possessions to the poor, and if I have cheated anybody out of anything, I will pay back four times the amount."
Jesus said to him, "Today salvation has come to this house, because this man, too, is a son of Abraham. For the Son of Man came to seek and to save the lost." -LUKE 19:1-10
Zacchaeus was a tax collector who got rich skimming off the top. He didn't even hide it, flaunting his wealth, living on a noticeably higher income than an ordinary tax collector. He was living the high life but empty inside, not to mention everyone was taller than he was. News that Jesus was in the area was buzzing and it somehow triggered the emptiness lurking within and his focus zeroed in on Jesus to fill it. He was always figuring a way through things, using his smarts to cheat and using others to get ahead. He wanted to see Jesus, he needed to see Jesus. In his current circumstance it wasn't going to be easy.
He scanned the scene looking for his chance to get a good look at Jesus then it clicked and his focus zeroed in on the Sycamore tree. Towering above all the haters. He couldn't see past the naysayers or over his regrets. But his desire was higher than his stature. His desperation climbed over all his mistakes and insecurities, branch by branch. He dropped the old game book of ways to get it done on his own and climbed above the bad things he had done, above the looser self image, and above the condemnation of the crowd. He scaled that tree with all his heart and strength and found the perspective he was so desperate for. Clarity comes by getting into a position above your current circumstance beyond your past. Craving clarity with a desperation gets Jesus' attention.
Zacchaeus was accustomed to being looked down upon and avoided. But it was different with Jesus, when He came near He looked up at Zacchaeus and lavished grace upon him. Unmerited favor and acceptance. Jesus immediately called him close, "Come down, I must stay at your house today!" Jesus literally invited himself over to Zacchaeus' house. Instant connection, instant friendship. Once he was pushed away and left alone with piles of tax forms and receipts, now he was a friend of Jesus.
Eyes roll and whispers spread, "He is going to stay at the house of a sinner." The crowd was filled with people Zacchaeus had cheated. When Jesus befriended the guy the tax payers were mad at, their offenses widened. Now they were mad at both Zacchaeus and Jesus.
But Jesus' acceptance of Zaccheus changed him dramatically. He payed back all he had cheated four times over and gave half of his money to the poor.
No matter who you are, when you seek the Lord with all your heart you will find Him. So encourage others towards Jesus.
No one is exempt from the love and grace of God.
All who seek Him can find Him.
Jesus' acceptance changes lives.
Those changed lives change the world.
The Sycamore Solution
(X + Jesus) = Fulfilled
Solve for X
Anyone + Jesus = Fulfilled
X = Anyone